The ChefWave Sosaku Smokeless Infrared Rotisserie Indoor Tabletop Grill — Char, Grill, & Cook Anything Indoors on This Flameless, Smokeless, and Non-Stick Grill —
With the ChefWave Sosaku Smokeless Infrared Rotisserie Indoor Tabletop Grill you can:
Roast a whole chicken – up to 6 pounds – with the rotisserie function.
Grill all kinds of foods with adjustable temperature controls and a cooking timer.
Drain away grease and fats for healthier results with the removable drip tray.
Make 7 kebabs simultaneously with our skewer set, or use skewers individually. Make fries in the fries basket or fish in the cage.
Infrared heating elements heat up quickly, and 1780 watt power ensures thorough and fast cooking, allowing for grilled meat to be beautifully seared on the outside and juicy on the inside.
A non-Stick grill rack enables easy cleaning.
4.2/5 stars on Amazon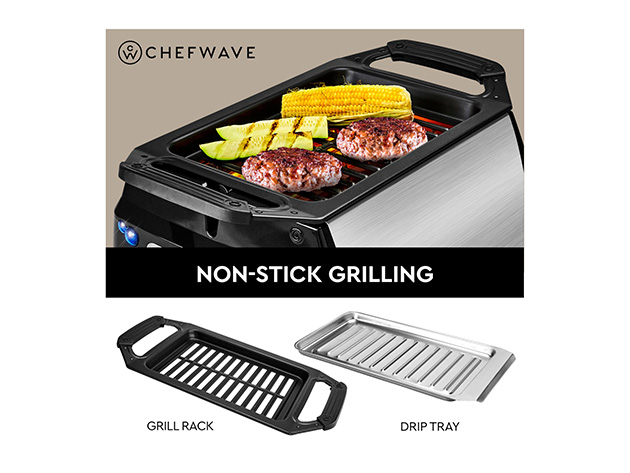 5-in-1 grill & rotisserie. Cook a variety of dishes using one versatile cooking tool
Virtually smokeless. No need to fan the smoke out of your kitchen
Infrared heating elements. Flame-less heat for indoor grilling convenience
Non-stick grill rack. Easy flip for that perfect char marks
Automatic switch-off. A 90-min timer that shuts off automatically
Adjustable temperature. Cook anything with adjustable heat
Stay-cool drip tray. Keep the cooking tidy with a reliable fat drippings tray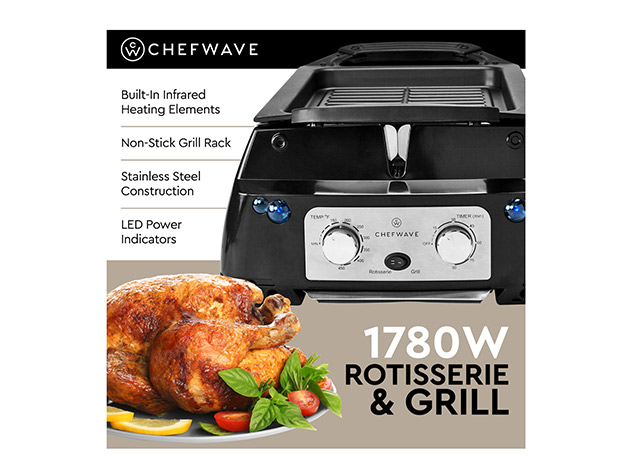 Specs
Color: black
Dimensions: 7.9″H x 18.9″L x 14.2″W
Stainless steel racks: 13″ x 12″
Weight: 18lbs
Voltage: 120V
Power: 1780W
Adjustable temperature (150-450° F)
Non-stick
Automatic switch-off
LED power indicators
ETL-certified
Manufacturer's 1-year warranty
Includes
ChefWave Sosaku Smokeless Infrared Rotisserie Indoor Tabletop Grill
Skewer Rack
Drip Tray
Grill Rack
Steak/Fish Cage
Kebab Set
Round Cage
Spit Rod Set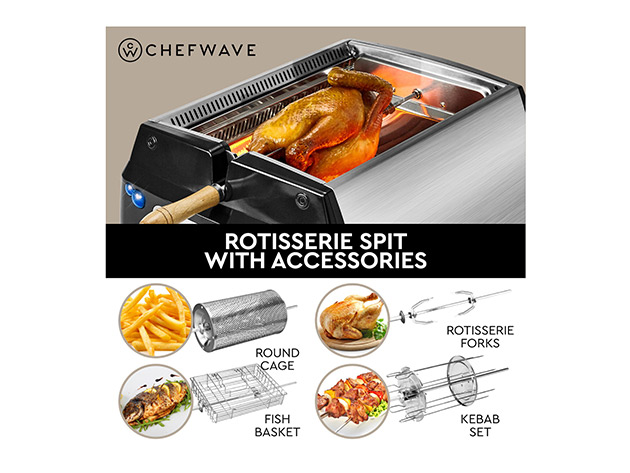 .
Affiliate Disclosure:
The operator of this website is an affiliate of multiple products and any sponsor links in many articles and pages are "affiliate links." This simply means that if you click on my affiliate link and then make a purchase, I will earn a small commission. However, it does not increase the price you pay. Consider it a tip for the value provided in this email resource.