If you want the most advanced laser distance measurer on the market, you've found it – the world's first bilateral laser distance measurer, the VH-80.
VH-80 measures distance bilaterally, which means you can position yourself anywhere along the line of measurement. This makes VH-80 unique compared to other measurers, and gives you unprecedented flexibility in how you measure. So if you need to take lots of measurements, or take measurements in a lot of different places, VH-80 will help you do it faster than any other device.
VH-80 uses two laser diodes. This means three measurements are taken with each action: one to the left, one to the right, and one combined total. If you're measuring multiple lengths of materials, this saves you time and effort exponentially — with each new measurement, your work is reduced by a factor of three!
Successfully funded on Kickstarter!
3 values at once. Can take 3 measurements per single action: the left, right, & total combined
Continuous measurement. Measures at a set time interval providing live change along with your movement
Area. In just one wrist turn, VH-80 can calculate the area of a room for you
Volume. Acquire the volume of a space with 3 flicks of the wrist
Pythagorean Theorem. Makes an indirect measurement by measuring 2 sides of a triangle to acquire the third
Live recording. Records up to 9 measurements with its internal memory, & virtually limitless and instantaneous with your app
Magpie cloud server. Stores a total of 16 pieces of information including measurement device information, smart device information, & measurement result values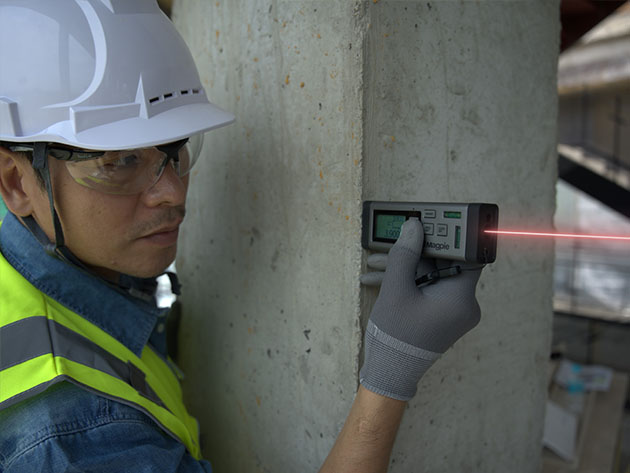 Specs
Color: space grey
Dimensions: 4.96″ x 1.73″ x 0.98″
Weight: 88g
Distance: 0.05m~80m
Measure time: 0.3~3sec
Laser class: 2/635nm/<1mW
Manufacturer's 1-year warranty
Includes
VH-80
VH-80 Pouch
VH-80 Strap
AAA Batteries
User Manual
.
Affiliate Disclosure:
The operator of this website is an affiliate of multiple products and any sponsor links in many articles and pages are "affiliate links." This simply means that if you click on my affiliate link and then make a purchase, I will earn a small commission. However, it does not increase the price you pay. Consider it a tip for the value provided in this email resource.